This week's Marketing Tip O' the Week: Go to Macy's.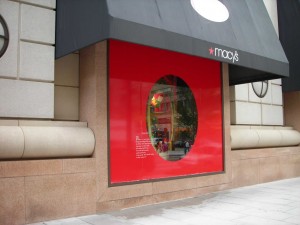 Not literally, but if you happen to find yourself near the Macy's flagship store in New York, be sure to check out their windows. Even if you've never been anywhere near Macy's in Manhattan, you probably know they're famous for their window displays, particularly around the holidays. [level-members]
As the huge crowds around those windows prove, there's real value in creating catchy displays. There's no need to get that crazy in your shop – Macy's has a full-time staff creating those windows – but you should have at least one window where you create a display that changes seasonally or reflects upcoming holidays or to ties into a local event.
Even a horribly snowy winter – or incredibly mild winter – can be the subject of your display. No need to hire a Hollywood set designer, either. You can start with a mini-display and use items you probably have around the house or maybe even in the shop.
Here are a few ideas. I'm sure you can come up with others, including some specific to your shop and your community. As with all things marketing, don't bite off more than you can chew. Better to do it rarely and well than often and poorly.
Christmas and New Year's
Thanksgiving
The Winter Olympics (Any decent winemaking in the host country?)
The Summer Olympics (Any decent winemaking in the host country?)
Wimbledon
The French Open
The Australian Open
Tour de France
Kentucky Derby
World Cup Soccer
Earth Day (Organic wines?)
Arbor Day (More organic wines?)
Passover (Kosher wines)
Easter
Memorial Day
Fourth of July
Beach weather
Labor Day
Crisp fall days, apple harvest
Your birthday
Your shop's "birthday"
Added bonus: fun, interesting or quirky displays are yet another thing to talk about in your email newsletter, social media and the other content marketing you do. Remember, you want to keep your audience interested …
[/level-members]