We're still not out of the woods of winter, even though full-on spring is right around the corner. Still time for some rib-sticking comfort food and the wines to go with them. [level-members]
Our recommendations this week come from Meg Houston Maker on Palate Press. Top of the list for me is cava with grilled cheese. Closet Cooking has some great grilled cheese ideas.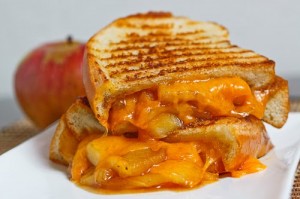 Second on my list, and a perfect choice just in case spring does show up suddenly and you've got the urge to grill: zinfandel and hamburgers. We love stuffing our burgers with blue cheese and topping them with tomato, lettuce, ketchup and mustard, but zinfandel can work just about any way you make 'em.
One other idea for you: mac and cheese goes fantastically with crisp whites from the Loire. You just knew I was going to sneak a Loire pairing in, didn't you.
[/level-members]